Welcome to HomeAdvisor.
Here's a guide to help you get started.
---
Your 4 Steps to Success
Congratulations and thank you for joining HomeAdvisor! We've put together a 4- step checklist to help you get started with our service.
Complete Your Business Profile

Submit Your First Review (Tell us about a past customer)

Verify Your Account Settings

Download the HomeAdvisor Mobile App

The Support You Need to Succeed
We invest over $70 million each year to ensure that HomeAdvisor pros are at the top of online search rankings.

We have 1,200 employees dedicated to serving service professionals like you.

HomeAdvisor's patented ProFinder technology ensures that you're matched to the right jobs.

FREE online tools help you efficiently manage your account AND your prospects.

As part of our ongoing effort to connect you to more homeowners, we launched a national TV ad campaign in 2013. Running on major networks across the country, this campaign will dramatically increase the visibility of HomeAdvisor as the place to find the best, pre-screened and neighbor-rated home service professionals like you. Watch spots on
HomeAdvisor is the Nation's #1 non-retail, online home improvement destination.-Compete.com | Aug. 2012
Homeowner Expectations. Exceeded.
We've helped millions of homeowners find the right pros for their projects. They've told us that their hiring decisions are based on more than whether or not the pro has the right skills for the job.
Here's what homeowners are looking for:
Be Prompt
Time is of the essence, especially when a homeowner needs help. Calling new prospects immediately is one of the most effective ways to win the job.
Be Professional
One of the most important things homeowners look for when hiring a pro is professionalism. Whether it's showing up on time or making good on your word, they want a pro they can trust.
Be Proactive
Many homeowners are busy and may require more than one follow-up attempt. Proactively following up to discuss their project and explain the value you can deliver can mean the difference between winning and losing a job.
Complete Your Profile
As a homeowner's first introduction to your business, your business profile is your chance to make a great first impression - telling them who you are, what you do, and how you're different. Take advantage of our free tools to make your profile stand out.
Building Your Business Profile
Your HomeAdvisor business profile page lets homeowners know that you are the right pro for their project. Make a great first impression with prospects by:
Completing all aspects of your profile to give homeowners the details they need to hire you.

Adding recent pictures that showcase the quality of your work.

Offering unique deals to help you stand out from the crowd.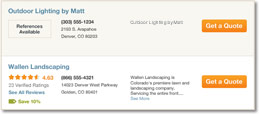 Click to Zoom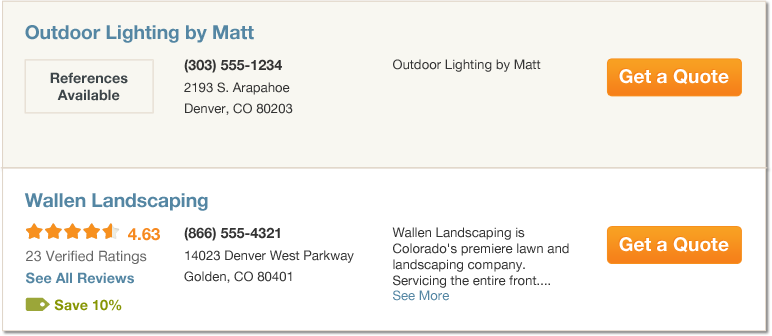 Which of these search results would you choose?
Managing Your Account Settings
Want to modify what types of leads you receive? How about viewing your latest bill? You can do this and more by managing your account settings:
Adjust your task and coverage areas to get access to the jobs you want, where you want them.

Set your communication preferences to receive your lead notifications in the way that works best for you.

View your bills and manage your spending with just a few clicks.
Update your profile regularly to show homeowners your latest projects and to ensure your info is current.
Converting Your Leads
HomeAdvisor's lead management tools help you stay organized and deliver superior customer service to your prospects.
Sort and filter leads to manage follow up appointments and jobs you've won.

Respond quickly to prospects using pre-written email templates.

Schedule appointments and set reminders easily to ensure you follow through on commitments.
During their initial consultation, successful pros often tell prospective clients that their goal is to earn a great rating and review on their project.
Maximizing Your Ratings & Reviews
In the online world, ratings and reviews are equal to word-of-mouth recommendations. Make your profile rise above the rest by:
Submitting a starter review from a previous project.

Requesting ratings & reviews from HomeAdvisor homeowners after each and every project.
A Great Asset to My Business
"In 9 out of 10 cases, I find that homeowners coming through HomeAdvisor are smarter and more informed than what I got through newspapers. There are some "shoppers" that come through, but most customers are looking for a good quality contractor. . . . Having a steady stream of prospects and the flexibility to manage my flow of work using their tools has made HomeAdvisor a great asset to my business."
Earl Russ
Earl's Powerwashing, Painting & Carpentry
HomeAdvisor Cares About Me
"HomeAdvisor has allowed me to increase my online presence in a way that I could not have achieved on my own, and connected me to serious customers willing to listen and work with me. More importantly, I've found the people at HomeAdvisor to be very knowledgeable about selling, lead generation, and my industry in general. They have great ideas and really care about me as a customer."
Earl Zei
E-Z Kitchens
Get Jobs and Referrals
"As soon as you receive a lead, call them immediately. Make sure that when you follow up you are giving your customers the best possible service as well as value, because these are educated consumers. Do right by your customers and you will get the job AND additional referrals."
Chuck Anania
NJ Certified Roofing
Managing Prospects On-The-Go.
Following up with prospects while on the job can be challenging. The HomeAdvisor Pro mobile app helps you stay on top of your leads by giving you the on-the-go control you need to manage your business anytime, from anywhere.
View and sort leads with the touch of a finger.

Connect with prospects and follow up quickly and easily with mobile email tools.

Stay organized by setting lead status, taking notes and creating reminders.

Access job details and map directions to appointment sites.