Find out how the pros at Reliant Roofing turned a creative staffing idea into a million-dollar business model you can use for your own company.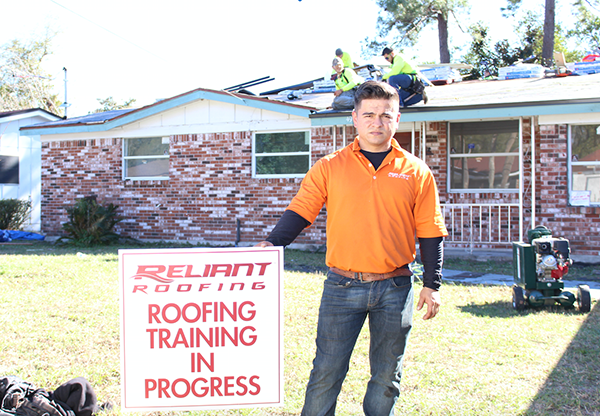 When they first started their Jacksonville, Florida-based business in 2015, Sean Shapiro and Cameron Shouppe were dealing with high turnover, low quality, disloyalty, bad habits and bad attitudes — not to mention a short supply of workers qualified to install and repair roofs. So, they decided to buy some vacant houses and take employee development into their own hands. Now, thanks to their inventive strategy, Reliant Roofing has more than 20 loyal employees, a healthy job referral program and a thriving company culture. And they're crushing the competition because of it.
Here's how they pulled it off:
1. They found their sweet spot.
Sean and Cameron flipped 200 houses together in just five years before starting Reliant Roofing. So, they knew the roofing companies in their area weren't putting their best foot forward. In fact, just about every roofing crew they hired showed up late (if they showed up at all) and came to the jobsite looking unkempt and acting unprofessionally. There was a glaring lack of professionalism in the local roofing industry. And Sean and Cameron recognized that filling that void would quickly set them apart from the competition.
Sean and Cameron run their business more like a tech company than a traditional roofing business, says Sean. They take a methodical approach to branding, marketing and business development efforts. And, as part of their professional presentation strategy, they deploy their crews in branded trucks and polo shirts. "People say we don't look like roofers." says Sean, "And that's by design."
2. They took a resourceful approach to recruiting.
Given their own experiences, Sean and Cameron knew they didn't want to hire experienced roofers from local roofing crews. So, they got creative. The first thing they did was find a highly qualified, bilingual master roofer ­­— Camillo Calle — to lead recruitment and training. Then, they directed Camillo to recruit from community centers like churches, restaurants and soccer fields. The idea, says Sean, was to build a team of hardworking individuals who'd enjoy being part of something bigger than themselves.
"Most people look for workers with the right skillset, but we decided to look for the right mindset," says Sean. "We wanted to hire good, task-oriented people and give them roofing skills. As business owners, we believe teaching a man to fish rather than giving a man a fish will pay long-term dividends from a multitude of angles."
3. They created a groundbreaking training program.
Since new recruits come in with zero roofing experience, they have to learn everything from how to use a nail gun to how to tear off an existing roof. So, Sean and Cameron buy dilapidated houses to give them a true-to-life training ground. "First, recruits interview with Camillo who vets them for culture and brand ambassadorship," says Sean. "Then, once we've got five guys, we put them to work on training houses. They roof them over and over again, learning about safety and the roofing process and different roofing components and types. It takes about four to six weeks. And they learn not only the hands-on trade but also how to work together as a team most efficiently."
4. They took measures to retain employees.
Typically, roofing contractors negotiate with crew leaders on a flat price for a project, says Sean. And typically, the crew leader keeps the bulk of it for himself. But at Reliant Roofing, Sean and Cameron have purposefully created a fair compensation model that rewards progress and makes each worker feel valued. "From the employee perspective, it creates a really strong company culture," explains Sean. "They know they're getting a steady paycheck from us, and they know they're not going to be busting their hump for some crew leader who's going to be keeping all the money. That's what's really had people buy in and stick with us."
Takeaways:
Reliant's creative recruiting and training programs have also paid off in terms of loyalty and retention, says Sean. "Not only do we see a boost in company culture — where people are really bought into doing the best they can day in and day out — but we also see our roofers being great ambassadors of the brand when they're out on the jobsite. They feel really tied to us. We're the company that gave them a skilled trade that separates them and allows them to make a great living."
With markets booming across the United States, businesses good and bad are getting more work than they can handle, says Sean. And a lot of business owners aren't giving long-term staffing solutions a lot of thought. "Everyone's super busy and promising the world to consumers, but they don't have any skilled labor to do the work" says Sean. "That turns out to be an adverse approach to business ­— to be taking on more work that you can actually bite off at the moment — because you get desperate and will settle for lower quality people to come and facilitate the work. And over time, that's going to kill your brand."
The skilled labor shortage is only set to worsen over the next 10 years, as baby boomers retire and business owners are left to fill the gap, explains Sean. So, it's important that everyone in the home services industry start thinking about how to attract and retain a different kind of workforce. "It may seem daunting," he says, "but it's really easy to implement and it will make a big difference in your business."