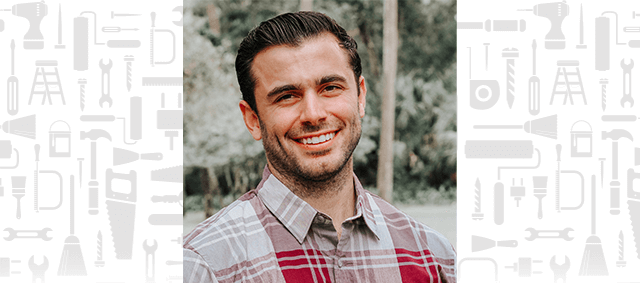 Tanner Mullen, owner of Premium Painting in Ocala, Florida, and founder of PaintingStartup.com, was on a different track before he joined HomeAdvisor and launched his painting business. He'd earned a degree in business and worked in hospitality, management and sales – trades that, at first glance, seemed worlds apart from the summer painting work he did with his father through high school.
Then, Mullen had a realization: He had the knowledge and tools needed to run a business and was using them to help others achieve their goals. Why not use them to start a business of his own?
He signed himself and his father up for HomeAdvisor as Premium Painting – and jobs came rolling in instantly! Using his business knowledge and a customer-centric approach, Mullen took Premium Painting from a father-son operation to a business with two full crews and an unbeatable reputation. He's even started an entrepreneurial side project to help other pros do the same: PaintingStartup.com.
Q: Why is customer service such an important part of your company model?
A: I think there's a dire need in the trades for it. Something as simple as calling 10 or 15 minutes before the estimated time if you're running late, or even just a follow-up call to say, 'Thanks so much for giving me an opportunity to give you an estimate.' These are things that were normal to me, coming from my background. But when people receive this kind of service, they're almost in shock. They expect that everywhere else. But for the trades, they don't know what to expect. So, when they get that sort of customer service experience, they gravitate toward it.
This business is not about us. It's about the market. And homeowners appreciate you doing what you say you're going to do when you say you're going to do it. If you say you're going to be somewhere, be there. If you say you're going to do something, do it. And if you can't do it, be honest and say you can't. You're going to find that people are a lot more understanding when you approach them with honesty and truth. Operate with integrity and treat homeowners the way you would want to be treated.
Q: Why do you prioritize creating content and using social media?
A: Essentially, it's what the market wants. If our demographic is homeowners, we need to understand how they buy and make decisions. With Amazon and eBay, people do a ton of research. They look at reviews and try to get as much information as possible before they make the decision. We want to shortcut that process. And the quickest way to do that is to prioritize your social presence. Being an individual and being vulnerable on your Facebook or Instagram is key in today's market.
It's important to realize that putting yourself out there on social media helps bridge the gap between the unknown and the known. It's giving a customer who doesn't know you a small glimpse of what your company's about and what you stand for — an idea what they're going to get if they take the risk of going with your company.
Q: What are the top five technologies you use in your business?
A: Number one, I'd say the most important thing we use in our business is a customer relationship management (CRM) system. It helps us identify where each client falls in our buying process. If we have somebody who's gotten an estimate, or we've given them a proposal, or we won the job, we can categorize these people so we know which stage they're in.
Then, a really important piece of the puzzle is our auto emailing system. We use Mailchimp for that. When we give someone an estimate, we send an email sequence out to them over the course of the next 14 days.
Another really cool tool we use is called TSheets. This is a program we use to make sure we're tracking the time of our employees, so they can clock in and out remotely from their phones. That gives us a good idea of where they are and whether they were on time.
Trello is what we use for project management. We'll upload a bunch of pictures of the different projects we have going on, and we'll upload all of the specs and the different things we need to do for that specific job. Then, we give our managers access to that card so they can look and see exactly what they need to do.
Number five is HomeAdvisor. HomeAdvisor is a crucial part of the way we conduct our business. As its own database of clients, it allows us to connect with many different people we otherwise wouldn't have been able to connect with.
Q: Did you start using HomeAdvisor on day one?
A: Actually, it was before day one. I was still working at my bank and I signed up. HomeAdvisor is really what sparked my business because of how quickly I was able to find people who needed their houses painted. I called them up, set the estimate and the rest is history.
The HomeAdvisor app is an incredible resource. It should be required. My favorite feature is the ease of calling leads on demand. And it's a very clean interface. I love the ability to pick up opportunities. You look through different job types and you can select which jobs fit what you want to do at that time.
Q: How should pros go about adopting new technologies if they're not familiar with them?
A: My advice is: Take it one step at a time. Adopting change is difficult. Me being younger, I grew up around technology — so, it's second nature. But to someone who's being doing things one way for so long, take it one step at a time. Try it out and see how you can work it in your business. Your biggest strength is your skill, and you want to make sure that you keep that first. But you also want to make sure you have a few more tools in your toolbelt.
Q: Do you have any advice for people who are looking to start their own business?
A: Business is challenging, but it's the most rewarding profession in the world. Not only are you able to help clients, you're also able to provide jobs for people. Anyone who has it in their heart to start a business, I would advise them to take the leap. There's never going to be a right time. It's going to be challenging. So, get over the fear early and get into the habit of getting over your fears. You eventually develop some strength and momentum that carries you through the tough times.
Q: What made you want to start PaintingStartup.com, and what are you hoping to achieve?
A: My passion is to teach tradespeople, especially painters, how to use technology to their advantage — like teaching them how to categorize their leads, send email campaigns, and market their company with HomeAdvisor. And I also like helping someone who's really good at the technical aspects of their business to understand the other two major parts of their business: sales and marketing. We help business owners come up with a sales process, so when they meet a homeowner, it's not a random sequence of events. The whole point is to help them sell more jobs and find better clarity when it comes to how to run their business.
---
" We're on Instagram @paintingstartup and have over 2,800 followers. I give daily insights; I show videos of the systems I'm using. And we just launched the PaintingStartup membership in January. We also have a Facebook community of painters where we connect and troubleshoot ideas, and I do weekly webinars to hit on questions and give tools, tips and advice. "
---
*Angi Leads is formerly HomeAdvisor Pro
Stay Up to Date on Trends
Get the latest marketing & business tips in your inbox.