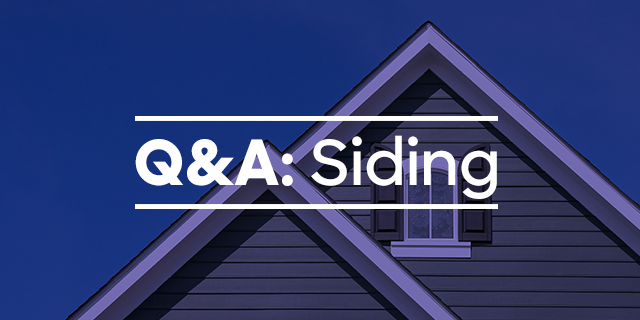 James Hardie Building Products is the leading manufacturer of fiber cement materials, which it developed in the 1980s. Millions of homes in the U.S. and Canada are now clad in the wonder material. We caught up with James Hardie to learn about the latest in siding, as well as other developments in the world of fiber cement.
Fiber cement has seen remarkable growth in recent decades, now claiming more than twenty percent of the siding market. What's driving the adoption and how big can the market get?
The material does a good job of selling itself, combining the beauty of wood with minimal upkeep. In fact, our products protect more than 8 million homes in North America. It's an incredibly durable material. We rigorously test our products to better withstand worst–case scenarios such as hurricanes, damaging UV rays, snowstorms, and more so that we can provide the most beautiful, durable fiber cement products on the market. And, our factory–applied, baked–on finishes of curated colors resist fading and look good longer.
As for actual adoption rates, there are some neighborhoods in the U.S. with 90 percent fiber cement siding. It starts with one house switching from vinyl to James Hardie® products and before long many other nearby houses make the switch as well. Looking nationally, 35 percent market penetration is where we think we can get.
For pros who have equally ambitious goals for their businesses, what are some ways that James Hardie can support?
James Hardie takes a lot of pride in having first–class contractor support. Our Contractor Alliance™ Program is designed to help pros grow their businesses at every turn, from sales and marketing to lead generation. It 's a truly holistic support system aimed at companies that want to go from doing 10 houses a year to 50, or from $2 million in revenue to $4 million. We look for the go-getters and do our best to help them hit their goals.
We're also committed to safety. For example, we make sure our pros have access to the necessary training and education related to OSHA's silica dust standard. The goal is to ensure that every exterior remodeling crew in the country is working with our products properly and as safely as possible.
The labor shortage continues to impact our industry, including exterior remodeling companies. How is James Hardie helping pros deal with the issue?
We focus on three critical areas with our contractors when it comes to their production capabilities: safety, retention and efficiency. Those three pillars allow contractors in our network to become attractive destinations for installers in their market. Focusing on the safety of the people working in your business, combined with establishing clear employer best practices such as consistent expectations, pay dates, and detailed scope of work documentation, enables high installer retention. When our contractors have high retention rates, providing jobsite training and production management capabilities enables both our contractors and installers to increase their capacity to do more projects each year.
Let's talk home design. What are some of the hottest trends in siding styles?
Transitional design, combining elements of new and old, is very popular at the moment. The Aspyre Collection by James Hardie™ is perfect for this trend. Our Artisan® shiplap siding, for example, is a natural fit for the modern farmhouse look that so many homeowners are going for. Products in the Aspyre Collection are even approved for use in many historic districts, which typically have very strict building codes. That's a testament to the authentic look of James Hardie products.
At the contemporary end of the spectrum, our Reveal® panel system is fully customizable and makes it possible to mix and match components. It's a popular option in urban settings and multi-family developments.
Fiber cement is also important inside the home, namely the HardieBacker Cement Board. Any noteworthy trends to speak of there?
HardieBacker® cement boards continue to be popular with pros and homeowners, especially the latest addition, HardieBacker cement board with HydroDefense™ Technology. The 100 percent waterproof board is perfect for rooms in which every surface is meant to get wet, such as bathrooms. Installation is critical in that kind of environment, and this new cement board product is extremely workable, and cuts easily with minimal dust or debris.
Stay Up to Date on Trends
Get the latest marketing & business tips in your inbox.