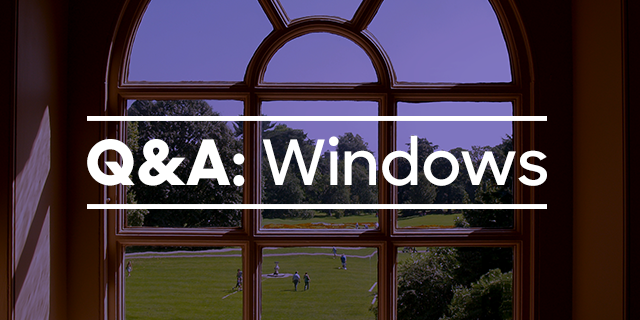 Windows and doors combine form and functionality like few other features in the home. And as more homeowners crave increased connection to the outdoors, they're more critical to home design than ever. For this month's manufacturer Q&A, we checked in with Pella Corporation to find out what's new in the category.
Outdoor living continues to be a dominant trend in home design. How are windows and doors evolving to create stronger connections with nature and the outdoors?
In today's residential spaces, light is luxury. It's about bringing in as much natural light as possible with floor-to-ceiling glass, and making the frames almost disappear. Bifold and multi-slide doors continue to be popular options for blending indoor and outdoor living spaces. Our contemporary Pella Reserve windows and patio doors feature expansive glass options combined with some of the narrowest sightlines in the industry, which allow homeowners to realize their vision.
We're also seeing rapid digitalization throughout the home services industry. What are some ways Pella is leveraging new digital tools and technologies?
Pella uses augmented reality to bring products to life and allow pros to interact with full, life-sized units simply using a smartphone and a code embedded in our literature. Pella's online visualizer tool lets customers see how new windows and doors can improve a home's curb appeal.
We also offer Pella DesignWorks, a virtual exterior design service that helps pros give clients exactly what they need. Maybe a customer wants to see what a new entryway or patio door would look like on their home. Whether the change is simple or elaborate, our design pros work with you on the details. One of the big benefits is you can see the whole exterior of the home transform. So it's not just windows, it's not just the siding, it's not just the new roof. Your customer can see the entire exterior of their home and what it will all look like together.
While housing and home improvement are relatively healthy, there are headwinds out there for pros, from economic uncertainty to a persistent labor shortage. What is Pella doing to help businesses become more resilient and recession-proof?
We created the Pella Certified Contractor Program for just this reason. It helps pros elevate their businesses through various supports, from driving sales via enhanced lead generation to staying on top of the latest market trends with different education and certification programs.
We also recently launched an e-book called Building for Success. Based on interviews with a dozen industry experts, it covers topics like building and retaining a strong team, keeping customers happy before, during, and after a project, and futureproofing your business against recession and other downturns in the market. It's only been out for a few weeks, but the response from pros has been incredibly positive.
Speaking of resilience, extreme weather is a growing concern for homeowners, with current spending on disaster-related repairs twice was it was twenty years ago. How are windows and doors becoming more storm and weather-resistant?
Our Pella Defender Series windows were engineered with that issue in mind. The impact-resistant windows can withstand hurricanes and increasingly stringent coastal requirements. At the same time, the windows provide noise reduction, excellent energy efficiency, and protection against intruders. And the laminated, insulated glass blocks 99.7% of UV rays, helping protect your carpet and window treatments from fading. It's about creating a window that homeowners will appreciate day in and day out, but that will also be there for them under occasionally extreme conditions.
Most homeowners install new windows only once or twice during the life of the home. What are some features that will help them appreciate the purchase over the long haul?
The important point to emphasize with customers is that there's no one-size fits all solution. Even on a single residence, we might recommend a few different window options—say sound control for the side of the house that faces a busy road, units with integrated blinds to provide privacy in the bedrooms, and triple-pane glass with Low-E coatings for south-facing windows that take a lot of heat. The Pella Lifestyle Series facilitates this mix-and-matchability, making it easy for pros to come up with unique room-by-room solutions for their customers.
Stay Up to Date on Trends
Get the latest marketing & business tips in your inbox.