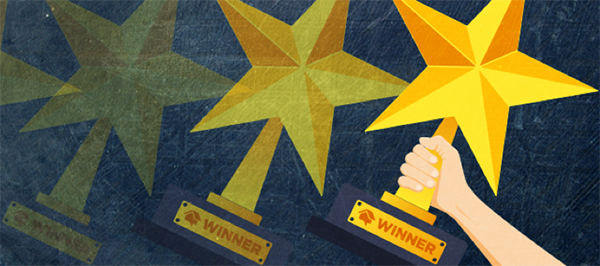 Do you want to set yourself apart from the competition while boosting staff morale and effectively marketing your business? Industry awards are a great way to make your company stand out and build customer trust.
The Best of HomeAdvisor Award is one such industry award that can help you achieve those goals and more. Awarded to top-rated service professionals in the HomeAdvisor network since 2013, the Best of HomeAdvisor award recognizes pros who exemplify exceptional quality, service and value to their customers. And, it can go a long way in helping you boost business and build your reputation.
In order to qualify, you must be an active HomeAdvisor member for at least 6 months, have zero customer complaints, maintain an average rating of 4+ stars, and receive at least 3 new reviews in the last 6 months (see full requirements below). And it's definitely worth the effort, says Wyatt Murphy of WJM Roofing in North Carolina. After all: "The exact same thing you need to do to be successful is the exact same thing you need to do to get those awards."
Here's how you'll benefit:
1. You'll effectively market your business and set yourself apart from the competition.
Pros who win the Best of HomeAdvisor Award receive a badge that they can display on their profile page and use for their own marketing.
Murphy showcases the Best of HomeAdvisor Awards he's won on his website to build trust with customers. Customers are online these days, says Murphy, and you have to meet them where they are to build your brand visibility. Good reviews drive sales — and so do industry accolades.
"To have several awards that say you've achieved something goes a long way in the minds of homeowners," explains Murphy. "A lot of them will check you out before they ever even call you."
Ron Alexander of Shelby Mechanical, LLC in Michigan has also received the Best of HomeAdvisor Award multiple years in a row. He uses it in online advertising and printed materials. He even used the award to make decals for his company's trucks. This lets local customers know that he's a trusted resource for their projects, says Alexander. As a result of his efforts, people are willing to wait for his services.
"We get so busy sometimes we might be two or three days out. They wait because they want us to do the work instead of calling someone without the awards."
2. You'll recruit and retain happy employees.
Awards are good for more than just attracting customers – they're also a great way to recruit quality employees and keep them motivated to stay. According to Murphy, potential new hires will read all there is to know about your business before applying – and companies who win awards are more desirable to work for than those who don't.
You can also use awards to congratulate employees on a job well done. Seeing hard work pay off is a great way to boost team morale and encourage employees to stick around.
"They feel like they're achieving something," says Murphy. "They're not just coming here, getting their paycheck and going home. They can go online and look."
At Shelby Mechanical, Alexander likes to celebrate the achievement with a big announcement and a poster on the shop board wall. It's a rewarding way to let the team know that their hard work is paying off.
3.You'll have another reason to connect with your customers.
Winning the Best of HomeAdvisor award gives you another reason to connect with your customers — and sharing the good news is a sure-fire way to keep your company top of mind when they're ready to hire for their next project or give a referral!
Announce your award in a post on social media, send it out via email, and issue a press release to your local paper. Not only is announcing your award a great way to enhance your marketing efforts, but it also lets your customers know who they should hire for their next job.
"When they see your rating, how many reviews, awards, and decals [you have], they call you directly," says Alexander.
Beyond the Awards
According to Alexander and Murphy, just winning awards isn't enough. If you want your business to be successful, it's important to operate in a way that builds customer trust.
"We always treat customers with respect. We always show up when we say we're going to be there and if we don't, we always call," says Alexander. "I do what I have to do to make sure they're happy in the end."
Murphy agrees. He feels that attitude and communication make all the difference when it comes to providing a great experience for your customers.
"Customer service is going to go so much farther than your abilities," he says. And in the end, that's what positive reviews are made of.
Will your business qualify for the Best of HomeAdvisor Award?
The Best of HomeAdvisor Award is automatically awarded in early May to pros who meet the eligibility criteria.
To qualify for the Best of HomeAdvisor Award, you must be an active member for 6+ months leading up to the announcement, and receive zero customer complaints. You also must be active for match (leads on) at least 75% of the time. In that time you also need to collect 3+ reviews and maintain an average rating of 4 or higher. Increase your chances of winning by requesting a review today!
Stay Up to Date on Trends
Get the latest marketing & business tips in your inbox.