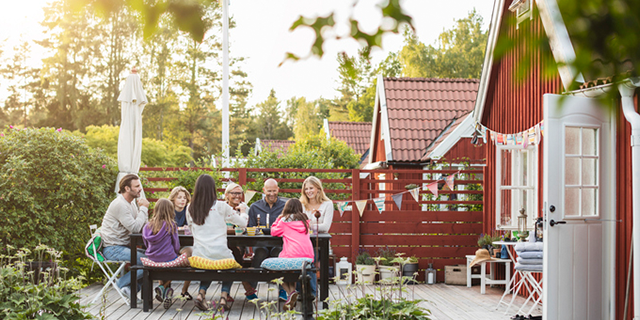 For many, Independence Day celebrations represent an unofficial kickoff to BBQ season. Even as homeowners head off on long-awaited summer vacations, up to 65% of them are interested in completing outdoor projects, according to the National Kitchen and Bath Association's (NKBA) membership trend survey. From major outdoor kitchen overhauls to updated fencing and natural landscaping, here's a look at the projects on summer to-do lists.
1. The outdoor kitchen is king.
Gone are the days of free-standing grills and backyard coolers. Homeowners are now looking for fully-equipped outdoor kitchens that include a bar, refrigerator, storage space and custom grill. The NKBA survey found that 76% of homeowners planning outdoor projects wanted an outdoor kitchen above any other updates. Homeowners are also looking to increase functionality in their outdoor space and improve general aesthetics.
2. Homeowners want blended indoor/outdoor rooms.
Indoor-outdoor living skyrocketed in popularity in 2020, and as we move into summer 2021, it's not just a wish-list upgrade – for many, it's a necessity. People still want a place to entertain, relax and even work from home, and blended indoor/outdoor rooms provide just that. Designated outdoor spaces for children, covered and uncovered areas, and glass window-walls are also popular options for homeowners looking to bring the outside in.
3. Natural landscaping and native gardening have risen in popularity.
While manicured lawns remain important to some, landscaping that incorporates native plants and edible gardens are becoming increasingly popular options for those who want to take a more holistic approach to outdoor design. An increased interest in native plants and edible gardens means less water use and lawn space, but also presents an industry opportunity to redefine what quality landscaping and gardening looks like moving forward.
4. Homeowners want fencing that goes beyond utility.
To go along with blended rooms and natural landscaping, homeowners are opting to incorporate elements of landscaping and décor into their fences. Pros can anticipate requests for built-in planters and accent lighting, as well as staining and painting with colors that complement their overall outdoor design.
5. There's a focus on increased backyard privacy.
People looking to entertain, recuperate or work outside want to do so without prying eyes. Thoughtful window placement, landscaping and fencing are just a few of the ways homeowners are looking to carve out privacy outside. Homeowners may also need help building pergolas, hanging outdoor curtains and creating an aesthetically pleasing covered patio.
Stay Up to Date on Trends
Get the latest marketing & business tips in your inbox.