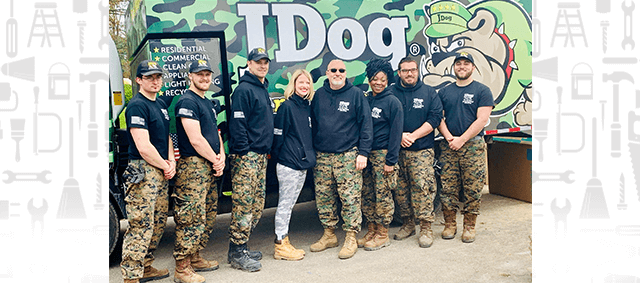 Image courtesy of JDog Junk Removal & Hauling.
When Master Gunnery Sergeant Ray Gagnon retired after serving in the Marine Corps for 25 years, he found it challenging to return to civilian work. And though he'd started and run a successful training and consulting business for several years after serving, Gagnon and his wife, Robin, wanted to find a way to give back to retired servicemen and women and their families. When they heard about the opportunity to run a franchise for Veteran-focused JDog Junk Removal & Hauling, they knew it was the perfect opportunity to help out.
"We could open a JDog franchise; we could hire as many Veterans as possible; and we could bring in friends and family," said Robin, who currently serves as the executive vice president of the company. "This is great."
Now, just a few years later, the Gagnons employ more than 20 Veterans, who make up about half of the company's workers.
Hiring:
JDog goes out of its way to hire hard-working Veterans and their family members. "It's been really beneficial to people," says Robin. "Veterans are phenomenal, they just need a chance."
And once they find a good place to work, they tend to stay awhile, says Director of Logistics Sarah Bowley. "A lot of them say that the reason they came [to JDog] is because we're Veteran owned. The reason they stay is because they're a family now."
One challenge to hiring so many retired military servicemen and women is that many continue to serve their country as members of the reserves. "We do have to [say goodbye] now and then so they can go do their two weeks or do their once a month," says Robin. "But when they return, they're fully supported," she added. At JDog, flexibility and patience for reservists is just part of the company DNA.
Helping Veterans Succeed:
JDog strives to make rejoining civilian life as easy as possible, and there are a few ways that they streamline the process.
"Having strict policies is something that really helps them," says Sarah. "It's nice for them to come into another situation [like the military] where expectations are clear, and they're rewarded when they meet them."
JDog strives to create a strong community and sense of comradery between employees. One way they do this is by having their workers wear fatigues (camouflage pants, boots and tee-shirts) while on the job. The uniform is familiar and helps build a sense of brotherhood. Plus, it's functional, especially for more labor-intensive roles.
They also provide on-the-job training for various tools and work processes, like chainsaw training, so workers are fully prepared for any role that they step into.
Getting Involved:
JDog doesn't only hire servicemen and women – they also go out of their way to help them in any way possible. Whether the staff is volunteering with the Veteran's Housing Coalition, participating in Military Makeover or providing furniture to those who've recently returned from a tour – JDog is committed to making life better.
Companies looking to help out should seek out local organizations like the Department of Veteran Affairs or Chamber of Commerce. JDog Junk Removal & Hauling also participates in Veteran job fairs, Veteran's Miracle Center and any other outlet they can find where they can meet local Veterans and get plugged into the community.
Stay Up to Date on Trends
Get the latest marketing & business tips in your inbox.