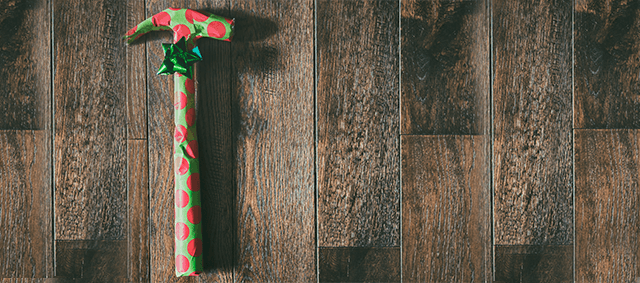 Tinker Toys, Lincoln Logs and Red Ryder BB guns may have dominated holiday giving in years past — but if you're a home services pro, you know that there are bigger and better toys on the market. From cordless sanders to high-tech lasers and heated jackets, these are seven tools to top your wish list this year.
1. Cordless Tools
Don't spend another day struggling to maneuver around electrical cords. This season, take advantage of the host of cordless tools and combo kits now available for pros. Whether you ask for a cordless sander; an eight-tool power kit; or a lightweight, battery-powered cut-off machine — these options are sure to make every day at work more convenient.
Tip: If you go cordless, make sure to ask Santa for extra batteries, too! This way, you can maximize cordless convenience and minimize the time spent waiting for a charge.
2. Ceiling Track System
While portable, wireless tools are convenient, they're not always the best choice for every job. If you'd rather stick to the classics, consider adding a ceiling track system to your wish list. These tracks will help get cords and hoses up and out of the way of your workspace.
3. Rockwell Jawhorse
Save space in your truck bed with a tool that pulls double-duty. The Rockwell RK9003 Jawhorse is both a sawhorse and a vise — it takes up less space and has far fewer parts to keep track of than traditional options. Plus, it can hold up to 600 lbs.
4. Contour Gauge
If it's not already part of your toolbox, you might want to ask for a contour gauge under the tree this year. This handy tool can copy and hold the shape of corners and moldings, eliminating the need for cutouts or other (more time-consuming) measuring options. It's especially helpful for tricky flooring projects or trim.
5. Laser Measurement Tools
Step into the realm of sci-fi this season with a laser measurement tool. Like traditional measurement tools, lasers help determine the level, grade and alignment of a project. But they take up less space and can measure much longer distances. For an option with five self-leveling lasers that help trace layout points, look into the PLS 5 from Pacific Laser Systems.
6. Heated Jacket
If you've been shivering on the job lately, then you'll definitely want to drop a few hints this holiday about DEWALT's 20-Volt heated jackets. They offer consistent heat for about five hours and run on rechargeable batteries. Plus, they feature several pockets designed specifically with tools in mind.
7. Cleanup Help
If you're resolving to start the New Year on a cleaner and healthier note, you may want to ask for an air purifying system. These tools cut down on dust cleanup after a job. Some options, like the BuildClean Dust Control System, promise to eliminate as much as 90 percent of airborne dust before it settles and becomes a chore for your crew. Plus, cleaner air creates healthier working conditions on the job site.
Stay Up to Date on Trends
Get the latest marketing & business tips in your inbox.