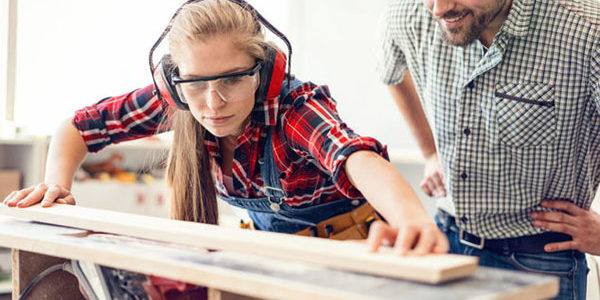 Benefits of Apprenticeships
Apprentices can alleviate strain on an in-demand industry and understaffed workforce, replenishing retiring ranks. Employers benefit from highly skilled, satisfied, and productive employees. The addition of hardworking trainees can also benefit your business.
Creating an apprenticeship program might sound like a lot of work, but you could finish jobs more quickly, accept more contracts, and give yourself and your regular employees a better work-life balance.
Apprentice training providers do their part to ease the trade labor shortage. In our recent survey, 50% of businesses report being understaffed, while 63% said they can't find enough skilled workers to fill open jobs. The best way to get a qualified workforce is to educate them. So, why not train them yourself and get the help of an extra pair of hands at the same time?
On This Page:
Benefits of Apprenticeships
Government Funding
Sponsorships
FAQ
Employer Incentives for Apprentices
There are many incentives for employers to hire apprentices, such as:
A steady supply of industry-trained labor
Higher employee retention rate
Increased productivity 
A more diverse workforce
Lower recruitment costs
Ability to create custom skill sets
The ability to apply for government grants or sponsorship funding.
Additional tax credits
This symbiotic relationship is beneficial to both parties. Apprentices can receive:
Unique skills that are in high demand
A livable starting wage
Upward mobility in a lucrative career 
National credentials in their trade
Grants and funding to learn while working
Government-funded Apprenticeship Scheme for Employers
Registered providers can qualify for government-funded apprenticeship programs. Here are some examples:
The Workforce Innovation and Opportunity Act is a national fund. The money can go toward on-the-job-training and other support.
The American Apprenticeship Initiative Grant, which receives $100 million annually,  can fund large industries up to $2.5 to $5 million for every 60 months of a program. Participants who meet specific qualifications can receive American Apprenticeship grants through this program.
Federal Student Loans can also support new recruits. The Pell Grant offers $3,000 per student while other work-study grants can offer up to $2,000 per person.
GI Bills can help veteran apprentices by giving them a monthly stipend from the Veteran Affairs. Veterans can get this benefit when their registered training program gets certified under the GI bill.
To learn about the funding that's available to you, contact the organizations in your state that oversee apprenticeship funding. Amounts differ based on business, location, and budget.
Sponsorship Opportunities
Sponsors play a key role in apprenticeship programs. They can help with funding, recruitment, and curriculum. Sponsors can be:
Private and non-profit organizations
Labor organizations 
Trade, industry, certification, and professional organizations 
Community colleges & universities
FAQs
How does an apprenticeship program work?
An apprenticeship program works by recruiting entry-level workers and teaching them from the ground up while they get paid.  This business-driven model nurtures talent and loyal employees by allowing them to climb up the company ladder while earning and learning at the same time.
How to become an apprenticeship training provider?
The first step to become a training provider is to contact your state's apprenticeship office to learn about funding opportunities. You should then collaborate with other businesses, labor organizations, schools, and other strategic community groups to create a productive work-study program. You and your partnership will work together to recruit people and craft a program that cultivates talent.
Do apprenticeships cost money?
Yes, apprenticeships cost money for businesses. However, federal or state-funded grants and sponsors can help you with part of or the total program cost. The amount of funds awarded each apprentice is unique to the type of funding available in your area and trade. 
How much do apprentices get paid a week?
Apprentice paychecks vary based on trade and experience. For example, the salary of an apprentice electrician is about $38,000, which is around $730 per week. A plumber apprentice's salary is the same as an apprentice landscaper's at around $30,000, or $577 per week.
How many businesses offer apprenticeship training?
Over 2,300 new programs were created in 2017 to meet the increasing demand for skilled labor. As of 2018, there is a 43% increase in the number of active apprenticeships compared to 2013. There are over 530,000 active apprentices. Over 190,000 individuals entered these programs in 2017 alone.
Stay Up to Date on Trends
Get the latest marketing & business tips in your inbox.