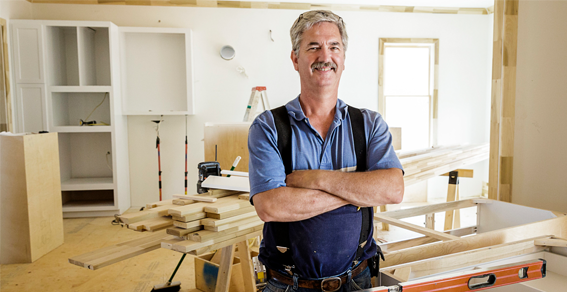 When it comes to navigating home renovations, homeowner Julie Schlueter is an expert. Over the last three decades, she has experienced two home renovations and a house built from the ground up. All of that experience has taught her what she likes in a contractor.
"Remodeling your home can be overwhelming," says Schlueter, who lives in Southern California. "Knowing what to look for in a contractor helps make the experience satisfying and successful."
Angi Leads' (formerly HomeAdvisor Pro) home expert, Dan DiClerico, agrees. "Renovations are stressful—more so than most homeowners realize going in. Anything you can do to help preserve order on the project, such as heading off surprises and solving building challenges, will keep customers feeling good about the process."
Here are their top 7 tips for what homeowners look for in a contractor:
#1: Honesty and Trustworthiness
"Honesty tops the list," says Schlueter. "In order to protect my home and my finances, it's important to know that the contractor conducts his or her company in a trustworthy manner."
General contractors should "signal trustworthiness from the get-go," says DiClerico. He advises bringing copies of your licenses and insurance to the initial meeting, in case the homeowner asks to see them. A website with contact information, including a physical mailing address, also shows clients that you're running an honest business.
#2: Good Track Record and Reputation
"The continued rise of online review sites means we're in a reputation economy now more than ever," says DiClerico. "That means positive online reviews are becoming a necessity."
Potential clients will check you out online. In addition to encouraging traditional word-of-mouth referrals, ask satisfied clients to post reviews. A professional website that features project photos also helps bolster your reputation.
#3: Professionalism
The key for homeowners is to see that you're professional from the get-go. This includes showing them you're reliable and have a positive attitude.
"I want to see contractors show up on time and finish jobs when they say they will," says Schlueter.
"It's important to be on your toes at all times," adds DiClerico. "Keep in mind that it's human nature to remember the negatives. Acting unprofessionally with a client one time could be the moment he or she remembers. Also avoid lowballing projects, because you're only as good as your word."
#4: Communication and Rapport
"On a major renovation, the contractor practically becomes a member of the family. Good rapport is critical—and it goes both ways," says DiClerico. "I always tell contractors, if you're not feeling it during the first meeting, it's probably best to take a pass on the project. No job is worth months of tension and stress from bad client/contractor chemistry."
Schlueter agrees. "It's important to me that the contractor gets along with me and my family and does the work happily without any arguments. It's also important that he or she listens well."
"Once you get the job and work is underway, communication becomes even more important," adds DiClerico. "Provide regular updates to clients and encourage them to visit the job site regularly. Also ensure that they come to you directly with questions or concerns, as opposed to having side conversations with your workers or subs."
#5: Willingness to Offer Input
Schlueter finds it helpful when contractors give suggestions during the renovation.
"It's nice if they make recommendations based on their experience with building," she says. "For instance, during one kitchen remodel, the HVAC contractor suggested putting a big vent in the kitchen near the stove so that the cook (me) would remain cool. That was a terrific suggestion we wouldn't have considered otherwise."
#6: Workmanship and Quality
Even homeowners on tight budgets want quality results.
"It's all about managing expectations," says DiClerico. "If you're a painting contractor, explain why a perfectly smooth finish, with the extensive prep work involved, will cost more than simply adding another coat of color. The homeowner can then make an informed decision as to which way to go."
#7: Value
It doesn't matter how big the budget, homeowners want to know they're getting top value.
"Anytime you can save clients money without sacrificing quality, you'll win major points," says DiClerico. "If two countertops look and perform similarly, but one costs 25 percent less, they'll love you for offering the less expensive option."
Takeaway
As much as it's stressful, remodeling is also exciting for clients and contractors. When a job runs smoothly and produces quality results, there's nothing quite so fulfilling as seeing the look of satisfaction on client faces.
Stay Up to Date on Trends
Get the latest marketing & business tips in your inbox.