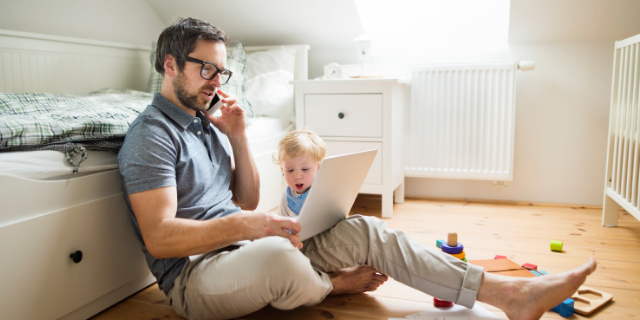 This year, home service professionals have adapted in thoughtful ways to new and challenging work sites. One major obstacle is getting the job done around clients who now work from home, and in some cases, around children who attend remote school.
We talked to three pros around the country about the best ways to increase efficiency, improve homeowner trust, and boost your bottom line while you're on the job near a remote-work client.
1. Try to plan ahead for the client's video or phone calls.
If you find yourself getting interrupted by homeowners' video or conference calls, there are ways to get ahead of the issue. John Linhoff, Project Lead at Nash Remodeling in Denver, Colorado, recommends talking to homeowners in advance about their schedules. While there may be surprise calls here and there, knowing what to expect can help you better manage your time on-site.
"If you have to get materials, or do some other things that you can do outside of the house, you can do those [during the call], rather than doing those things the first part of the day," Linhoff says. "The more you know, the more you can plan your days to be most efficient."
2. Treat your workspace with even more respect than normal.
Loud equipment, dust and debris are all expected byproducts of a job well done – but they can also disrupt a working homeowner's day.
Mike Mauno, owner of Nordik Construction in Southern California, says he and his employees deal with issues of noise and clean-up by approaching each site like it's the homeowner's private sanctuary. "You have to be very, very respectful of working in people's homes," Mauno says. "During this time, even more so."
Whenever possible, minimize unnecessary noises like loud music or phone calls. You should also consider upgrading your equipment to help minimize dust, particularly if there is anyone in the home with an issue like asthma.
3. Turn challenges into opportunities.
Salete Lana, owner of Lana's Cleaning Services in Willow Grove, Pennsylvania, estimates that about 85% of her clients are now working from home. Lana says this year has been extremely challenging for her business, but she's found a silver lining: more communication with the homeowner.
Before, Lana says, "we'd never get to see them, never get to know who they are." Now, although work sometimes moves more slowly because of pauses to talk, Lana sees an opportunity to build trust.
"They show appreciation for our jobs," Lana says. "Now they're home, and they can see for themselves how hard we work to keep the place nice and clean to keep them satisfied."
See more articles on how to grow your business here.
Stay Up to Date on Trends
Get the latest marketing & business tips in your inbox.