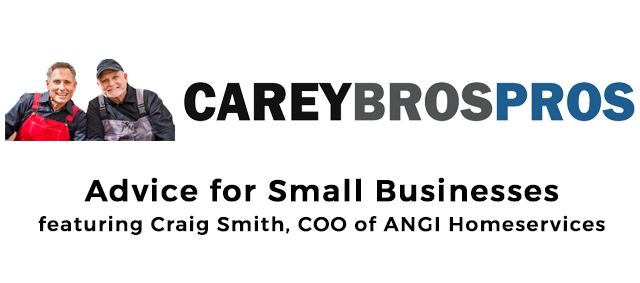 Craig Smith, COO of ANGI Homeservices, recently got the chance to sit down with the Carey brothers of the CareyBrosPros podcast. Within their podcast, James and Morris Carey provide up-to-date information and advice to home service industry pros that will help them grow and maintain their businesses.
In his interview with the Carey brothers, Craig discussed the most important trends for small businesses and the home services industry – and what HomeAdvisor is doing to help businesses adapt to those trends. In case you missed it, we've put together some valuable highlights from the episode!
#1 Word of Mouth is Out
Word of mouth is no longer king in terms of driving leads and referrals. "You're seeing more and more homeowners turn to digital mediums to find a reliable pro," Smith says. "The thing they like about that experience is that there's trust through the screenings and ratings that we do [at HomeAdvisor]."
Craig noted that convenience is also a significant factor. He points to companies like Uber and OpenTable that have set the expectation for on-demand scheduling. Each year, he sees more and more homeowners seeking similarly convenient routes for booking their home services.
#2 An Online Presence is Crucial
As homeowners trend away from word of mouth, an online presence is more important than ever. "It's critical to have a presence online," Smith says. "Regardless of whether the homeowner is coming from offline or online referrals, they're going to do research before they make that hiring decision. Most homeowners won't hire somebody if they don't have an online presence. Having a presence within our directory, either on HomeAdvisor or Angie's List, is key to influencing those hiring decisions. Highlight your ratings, reviews and examples of work you've done."
#3 The Future is On-Demand
As Smith mentioned before, companies like Uber and OpenTable have turned the convenience of on-demand services into an expectation – and that's crossing over into the home services industry. "People wonder, can I do that if I want to schedule and book an estimate for a remodel or schedule somebody to clean my gutters? And they're able to find that experience through HomeAdvisor, Handy and Angie's List."
#4 Quick Responses are Essential
Timely responses are essential to staying ahead of the curve as the expectation for on-demand services grows. "We're living in more of an instant-gratification, quick-response society," Smith says. "So, if somebody submits a service request at HomeAdvisor, they expect to hear back from somebody within 30 minutes – and the sooner the better. Have an infrastructure in place that allows you to quickly respond to leads as they come in." For instance, you might consider hiring an administrative assistant to respond to leads or bookings.
#5 The Labor Shortage Remains a Challenge
The home services industry continues to struggle with new skilled labor. "The trend everybody is painfully aware of is the skilled labor shortage," Smith says. "We've been working hard to help address that, both at a policy level and by creating better support and resources to bring more skilled labor into the marketplace – and unskilled labor as well. We're working on a few strategic initiatives to help support our service professional community. We have to do a better job of creating more appreciation and respect for what these businesses do and how valuable they are so people get more excited about entering the trades."
---
Catch the wave in a home services marketplace:
As convenience and on-demand services become the expectation, joining HomeAdvisor, Angie's List or Handy can help you stay on-track and grow in confidence. These platforms give you an online platform to showcase your ratings, reviews and photos, so that you can meet prospects where they're researching pros for their projects.
---
*Angi Leads is formerly HomeAdvisor Pro
Stay Up to Date on Trends
Get the latest marketing & business tips in your inbox.