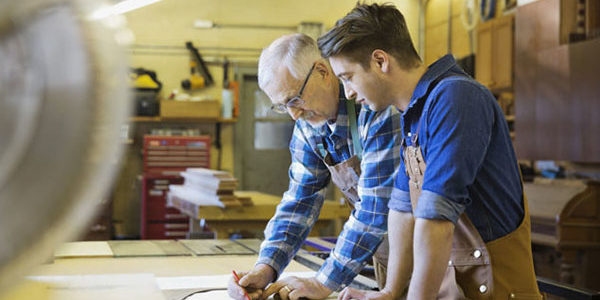 How to Start an Apprenticeship Program
Starting an apprenticeship program varies between states and businesses. Here's how to start an apprenticeship program:
Step 1: Contact your state office for instructions if you live in AZ, CT, DE, DC, FL, GU, HI, KS, KY, LA, ME, MD, MA, MN, MT, NV, NM, NY, NC, OH, OR, PA, PR, RI, VT, VA, VI, WA, or WI. Businesses in federally-managed states should go through the U.S. Department of Labor(USDOL).
Step 2: Decide on a program type and create a "work process schedule" (WPS) with your proposed job training (OJT) content and related technical instruction (RTI). You'll use this in your application. Consider the skills you and supporting trainers can provide.
Step 5: Recruit education partners (related businesses or schools) and assign competent trainers to support your apprentices.
Step 6: Recruit apprentices and finish developing a system to nurture their skills and growth to successfully graduate your program.
There may be a shortcut if you're an individual employer. You may be able to participate in an existing program and network. Just fill out an employer acceptance agreement, to be added onto another group's registration application.
On This Page:
Steps to Start
Registered Programs
Levels
Types
Government Programs
FAQ
Registered Apprenticeship
All business owners need to register their programs to receive benefits such as:
Government funding
Obtaining a nationally recognized credential issued by the USDOL
Tax breaks! Check out your state's unique tax laws for more information
Access to a free nationwide network of expertise and support
Higher visibility from being listed as an official registered program online
According to the USDOL, a registered apprenticeship is a "voluntary, industry-driven employment and training program" where workers earn while learning a skill or trade. This structured education program happens in the workplace. The student also receives OJT in conjunction with RTI. The apprentice is a full-time employee with a salary from day one.
Apprenticeship Levels
Apprentices start as entry-level employees who work full-time with benefits. By the end of the program, they should have the skills they need to graduate. Apprentices who meet the qualifications of the program can receive a nationally recognized credential, which offers a 100% guarantee to employers that they are qualified for the trade.
Some employers create program "milestones" between the entry-level, and the full national credential graduated employee. As a trainee moves up in levels and reaches new milestones, their wages may also increase.
Types of Apprenticeships
There are three apprenticeship types:
Time-based:  The program measures the student's progress based on how long he or she has spent in OJT and RTI. Trainees must complete at least 2,000 hours of OJT and 144 hours of RTI.
Competency-based: This type of program assesses the trainee's abilities as progress. Individuals get credits as they demonstrate competency. This is a good program for trainees with a bit of experience because it can take less time to complete. Teach skills in a different order with a bit more freedom than a time-based program. 
Hybrid: This is a blend of a time and competency schemes. Only a competent trainee can graduate, but they must still complete a designated number of training hours to receive their credential.
Government Apprenticeship Program
There are about 950 qualifying occupations. Right now, the government supports programs in all 50 states. Find out whether your trade is on the list. If you don't see your trade listed, you can trailblaze registered apprenticeships in your industry.
FAQs
How do I find and recruit the best apprentices?
Register yourself as a provider via the state or USDOL. This will help you surface on reputable websites like apprenticeship.gov. Potential recruits search trusted sources like these to find opportunities like yours.

 

Promote your needs through social media, at schools, professional networks, online listings, and in temp offices.
Attend community fairs or high school and college events. Fairs often allow sponsors and paid vendors. These are great opportunities to promote mentorship opportunities and spread word of mouth.

How old do apprentices need to be?

Apprentices must be at least 16 years old. Some employers offer "mature age" programs for veterans and laid-off manufacturing workers to quickly learn a new trade. For example, veterans can learn a trade and receive a stipend from their GI bill.

How much should I pay an apprentice?

By law, apprentices must be paid at least minimum wage. Consider paying more to boost morale and company loyalty or for skilled trainees. Here are some trade averages:
Can I get grants for offering apprenticeship programs?
Yes, you can get grants for offering apprenticeship programs. One of the benefits of an apprenticeship is access to government funding. The amount and type available will depend on what state you live in and the size of your business.
Stay Up to Date on Trends
Get the latest marketing & business tips in your inbox.